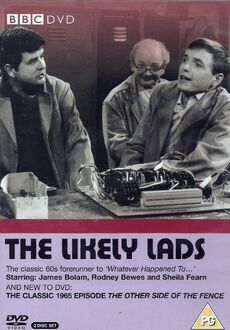 The original show followed the friendship of two working class young men, Terry Collier (James Bolam) and Bob Ferris (Rodney Bewes), in North East England (assumed to be Newcastle upon Tyne) in the mid 1960s. Both Bob and Terry are assumed to be in their early 20s (when their ages are revealed in the later film, this puts both characters at around 20 when the series started).
After growing up at school and in the Scouts together, Bob and Terry are working in the same factory, Ellison's Electrical, alongside the older, wiser duo of Cloughie and Jack. The show's gritty yet verbose humour derived largely from the tensions between Terry's cynical, everyman, working class personality and Bob's ambition to better himself and progress to the middle class.
Bob and Terry were two average working class lads growing up in the industrial northeast, whose hobbies were beer, football and girls. They were "canny", which is to say street-wise, yet they stumbled into one scrape after another as they struggled to enjoy the Swinging Sixties on their meagre incomes.
At the end of the third and final series in 1966, a depressed and bored Bob attempted to join the Army but was rejected due to his flat feet. Terry, however, who decided at the last minute to enlist to keep Bob company, was accepted A1 and shipped away for three years.
It was gradually revealed that Terry and Bob's full names were Terence Daniel Collier and Robert Andrew Scarborough Ferris ("Scarborough" not revealed until the 1970s colour series). According to the later feature film, made in 1976, both "Lads" were conceived during the same wartime air raid and were thus born in the same year, 1944.
Although in the colour sequel much would be made of Bob's childhood sweetheart Thelma, she appeared only once in the original 1960s show, in which Bob had no steady girlfriend and was forever chasing 'skirt'; though she was mentioned in some episodes in series three, including Rocker and Goodbye to All That.
The word 'likely' in the show's title (which in some Northern English dialects means likeable) is somewhat ambiguous. It might be derived from the phrase the man most likely to, a boxing expression in common use on Tyneside (in Geordie slang: "a likely lad"). Another possible meaning is the ambiguous northern use, which refers ironically to small-time troublemakers, usually young, as "likely", either as an ironic comment on the above sense or as an expression of the sentiment that they are likely to be the cause of any trouble.